We don't run out of excuses when we workout especially if we feel lazy or if our workout didn't do us anything good. Hence, below are motivational fitness quotes that would empower you to get going and stay focus at times that you are giving up:
Exercise to motivate, not to annihilate. The world isn't made on a day and neither were we. Set upon goals and build upon them-Lee Haney.
This motivational quote reminds us that we don't need to be too hard on ourselves. Furthermore, it also emphasize that workout results don't just happen in one day and that we need to take small sure steps to work hard to reach our goals.
"If a man achieves victory over his body, who in the world can exercise power over him?  He who rules himself rules the world."-Vnoba Bhave
This fitness quote makes us believe that no one or nothing really rule or defeat us but ourselves. If we allow negative thoughts towards our workout, then it is without doubt that we get easily defeated by excuses and our weaknesses, making us to ditch workouts.
"Exercise is like an addiction, once you are in it, you feel like your body needs it"- Elsa Pataky
This quote is suited best for those who cannot seem to start a workout program. We sometimes dread the muscle pain and the stress that a workout routine accompanies that we cannot motivate ourselves to start it. However, after trying few sessions, your body would definitely look for that kind of activity.
"Success is not the result of spontaneous combustion. You must set yourself on fire.'
This is for those who feel lackadaisical and feel that their workout routines don't give them results. This is saying that nothing motivates them but themselves.
"It's not about having no time, it is about making time"
Because we love making excuses during our workouts, just think of it. We don't need to squeeze workout on our schedule. We should make it our schedule, makes a difference?
"Don't fear of slowly making forward, fear in standing still"
"You may be disappointed if you fail, but you are doomed if you don't try"
"Don't stop trying just because you hit a wall, progress is still a progress no matter how small"
These quotes differentiate your slow steady progress in your workout rather than not having workout at all. Again, workouts don't give you immediate results because your workout works on your body and give you a long term and amazing effects. As the cliché goes, it is better to have a negative anything than a positive nothing.
When you think about quitting, think about why you started"
There are points in our lives that we feel like giving up especially if our schedules mess up or if we cannot see the benefits of our workout. Keep going and recall the reasons of your workout.
"Just believe in yourself. Even if you don't, pretend that you do and, at some point, you will." –Venus Williams
This empowering quote coming from an iconic athlete is quite inspiring especially for those who don't trust on their capability and their potential to become better on what they do.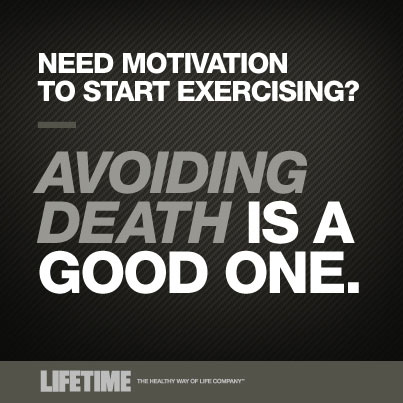 There are actually plenty of quotes that can motivate you to perform your workout routines or even do better than what you are doing. However, the best motivators aren't these quotes but yourself. If you want to start working out, then believe that you can do it and all else will follow.
After reading these motivational fitness quotes, it should become obvious that starting a regular exercise program is vital to your overall health and well-being. Here is a site where you will help you get in shape, lose weight and be healthy.