Ever envy how celebrities easily shed their baby pounds just few months their giving birth? Isn't it so annoying how their figures are red-carpet ready not long after they gave birth? Take for example how Megan Fox was so ready to strut her stuff just few months after she gave birth. She was so ready to tape her latest movie, Teenage Mutant Ninja Turtle. Let us not forget how Miranda Kerr was swimsuit ready, two months after giving birth to Flynn. Need we mention how Gisele Bündchen look as though she never gave with her post pregnancy figure?
Losing post baby belly may not be easy but it is never impossible. If you plan to redeem your enviable figure or if you wanted to make a "risk reduction" towards your figure, then you should start doing a move.
Giving birth can make one lazy and tired for workout. If you cannot find time to sweat those "baby fats" off, then you can use post baby belly wraps.
How to get rid of post baby belly flab
Celebrities like Jessica Alba claimed that she used two corsets to recover her waist before her pregnancy while the most beautiful woman on earth this year, Gwyneth Paltrow used two pair of Spanx to lose her post baby tummy. Wrapping or binding your body post pregnancy is a culture in different places. Latin American used fajas to wrap their tummy while Japanese women wear sarashi to wrap their belly. This post baby belly wrap makes the tummy flat and firm. They also redefine the waistline and reduce the bloat that is caused by the water retention in the midriff part. The post baby belly wrap called Taut helps shrinks the uterus while reducing the water retention. On the other hand, if you are ready to work out, then you can use the Baboosh Body that is an exercise band. You can wear this under your sports clothes.
Exercises to get rid of post baby belly
Before going through post-baby exercise, you should ask medical clearance from your obstetrician. Every pregnancy is unique which is why it is best to have a medical checkup. The rule of thumb says that you should hit the gym six weeks after giving birth. You can do any of these workouts:
Walking
It may look easy and less challenging but walking is one of the ways as you head towards fitness routine. You can stroll your baby to get her/his dosage of sun. This is a good way to condition your body for an intensive workout.
Shoulder and Head Lifts
These two routines help you strengthen back muscles. Apart from burning calories, these also tone your tummy.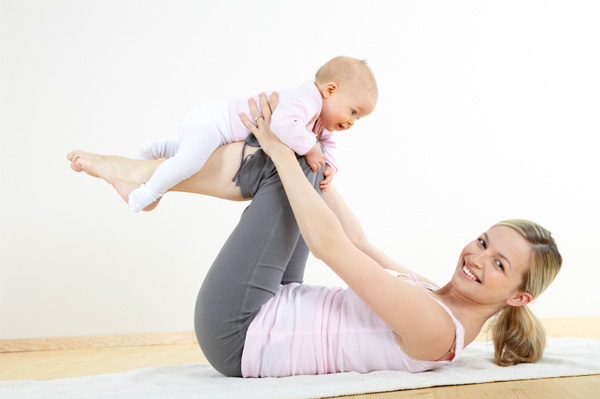 Curl Up
If you can stand the shoulder lifts, then it is time to the curl up.
The Kegel
This workout helps tone and control bladder muscles. This also reduce the risks of incontinence link to childbirth. This workout involves contracting and holding the muscles that is responsible to the urine flow. Losing that baby belly is hard especially if you don't have the motivation and discipline to do so. Just think of someone as your fitspiration and imagine how great it would be to regain your pre-pregnancy baby.
Come on girls, lets get physical! Want to know how? Mike Geary's best-selling program for reducing your body fat "The Truth About Six Pack Abs" a must-have. Mike Geary is a world-renowned personal trainer, and nutritional specialist. He's helped teach thousands of people world-wide how to get six pack abs using incredible body-shaping tricks and techniques.
The workout plans in the Truth About Abs program are the most unique and effective workout procedures just designed to decrease your belly fat without stressing you out for high results.
Want a flat belly? Mike Geary knows how. >>>Watch his presentation now<<<