There is something cool, sexy, and snappy with cargo and camouflage pants and no wonder this is one of the hot trends nowadays. Gone are the days when this type of clothing are reserved for military, hunters and different group of people. Today, anyone can wear cargo pants as this pair is great for outdoors. The only dilemma that most of the girls have what to wear with cargo pants. Thus, below will how to wear  with camo camouflage pants along with great pairs you can pull off.
Womens camo cargo pants
As we are used to wearing jeans on casual days and slacks for corporate functions, we usually overlook the fact that khaki cargo pants for women can be as cool as our denims. Cargo pants are so functional, versatile and laid back you can never go wrong wearing a nice pair. You can rely on army pants for women during a day's worth of errands as you can move and work freely on this pair. Cargo and army pants vary in styles and cuts that can complement your own taste and preference.
You can pair it with:
Sweaters
If you want to be uber comfy with your cargo pants, you can pair your pants with printed or knitted sweater and ballet flats. Go for a loose skinny cargo pants to balance your loose sweater. To finish the look, loop around your neck a nice scarf and you are ready to go out in a cold weather.
Neutral Colored Shirts
Like what Vanessa Hudgens and Leighton Meester are sporting, pair your skinny cargo pants with neutral loose shirts. If you are a curvy woman, it's okay to wear a skinny pair as long as the color is solid and does not attract attention to your unwanted flabby areas. Wrap a nice scarf around your neck and you are ready to roll in a chilly weather outdoors.
Silk Dress Shirt and Floral Tops
Khaki pants looked great in silk dress too. You can also bring cargo pants into your boardroom. If your company allows this type of clothing then you are in for a sexy luck. You can pair your cargo pants with floral tops or lace tops. This balances out the masculinity of the pants. You can roll the pants up a little bit higher and wear some heels for that ultra chic and sexy look.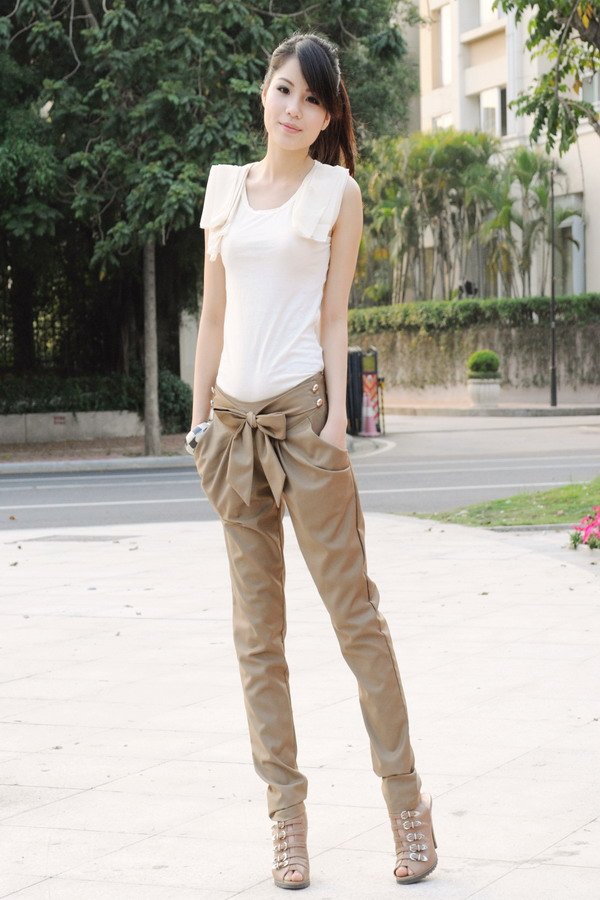 Rock it with Cardigan or Jacket
Your cargo pants would surely look awesome when paired with jacket or cardigan. Depending on the occasion, you can go for blazer too.
Men camo cargo pants
Since cargo pants are usually worn by men, finding what to pair with this type of pants is no sweat. This is true especially that designers are crazy over this pair and made some alterations. These changes are done to make military cargo pants for men more presentable and fashionable.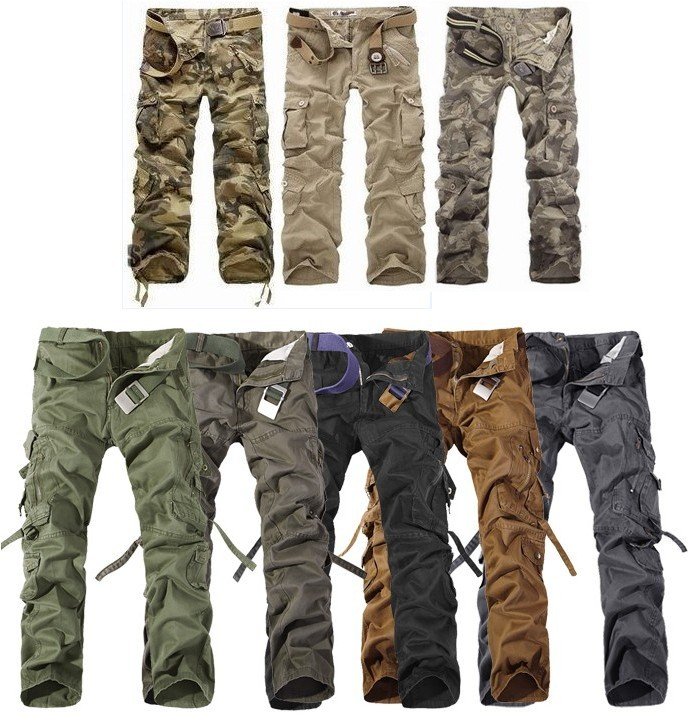 Fashion camo cargo pants for men can be paired with different colors of shirts. Men can pair it with:
Sleeveless shirts
For a start, men can show off some biceps and their toned muscles as they pair their cool and camo printed cargo pants with sleeveless shirts. The good thing about camo printed cargo is that they complement whatever colors they are paired with.For that laid back look, camo cargo shorts are also great especially on a beach or during a barbecue party.
 Polo Shirts
For that laid back day, men can pull of a brightly colored polo to contrast the neutral color of his cargo pants.
Cardigan and Collared Shirt
This is great for the casual and formal occasion. The cardigan is ideal for that relaxed and laid back atmosphere while the collared shirt spells formal. Pair it with a skinny tie and you are ready to join the boardroom.
Cargo pants are indeed versatile they can go with almost everything that you pair with them. Roll them up and pair them with sleek heels and you are ready for a meeting. Pair them with ballet flats and body hugging shirt and you are ready for a busy day. The key is just to mix and match and you would surely wow them with your cargo pants statement.
Find must have styles for summer, visit this site for cute, stylish clothing.